Digital Marketing & Advertising
Madison Digital Marketing Agency
What does Digital Marketing include?
The term digital marketing can mean a lot of different things to different people. Here at Soul Seed, digital marketing means all the things that a business can do online to be found, seen, heard, and paid. Digital marketing includes all the ways that you can connect with your prospective customers.
And because digital marketing is vast, it's important that your digital marketing strategy is aligned with what is going to work for your business and meets your customers where they are.
You do not need to be all things to everyone, and you don't need to be all places. To have an effective digital marketing strategy, it should be part of a holistic marketing plan in which all the pieces work together. It is important to have a strong presence where your audience is, but where many businesses go wrong is by trying to be everywhere, but not anywhere effectively.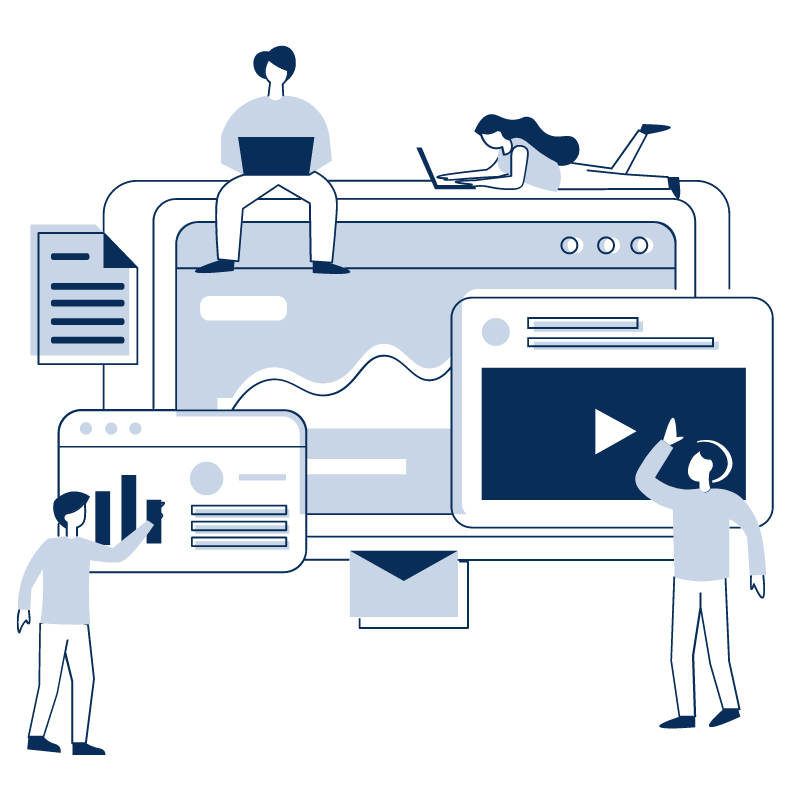 At Soul Seed, a Madison digital marketing agency, we're here to help you understand what digital marketing strategies are best for your business to meet your ideal clients where they are while developing an effective strategy to turn those opportunities into leads and then into clients.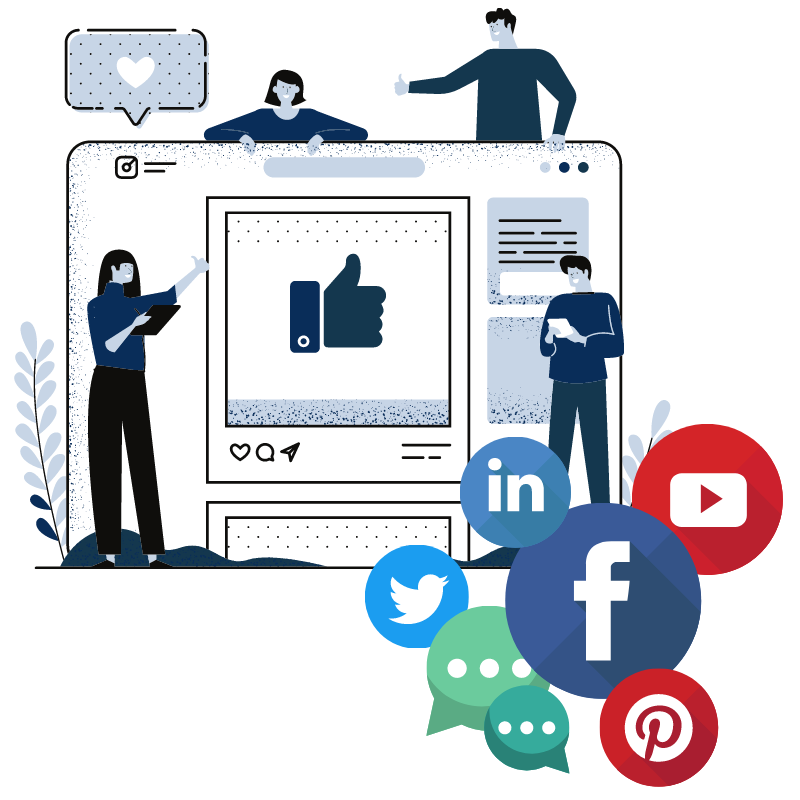 An effective digital marketing strategy can include social media marketing, paid social media advertising such as Facebook, Instagram, and LinkedIn advertising, paid search advertising, email marketing, marketing funnels to drive leads or conversions such as online opt-in funnels, a webinar, training, challenge or live event funnel, and search engine optimization or SEO.
You'll gain an understanding of the entire digital marketing funnel so your digital efforts function together in a streamlined and strategic manner. We're also here to remove the frustrations and complexities commonly associated with trying to implement your own digital marketing strategies.
There are a number of important steps to take to ensure that your digital marketing investment is as effective as possible.
Depending on your goals, most campaigns start with evaluating your brand strategy and your website to ensure that it's ready to welcome and convert prospective customers.
Next, we look at how to help you capture leads with a digital marketing advertising, retargeting and email marketing funnel to re-engage and build relationships with people over time to move each person to the consult or purchase phase.
Sometimes companies skip a step in the funnel, which can lead to inefficiencies and frustrations. For example, if you're investing money to drive leads to your website, it's wise to ensure that you have proper calls to action and a lead capture system set up so that you can capture those visitors who have already shown some level of interest in your product or services. In addition, we see many companies spending money to drive leads, but they don't have any retargeting or remarketing strategies in place. These are areas that we look at to help you be as strategic as possible. Sometimes it's not about doing more or trying new things, but it's about being more strategic and efficient with a few specific strategies.
If your business goals include being more strategic, comprehensive, and streamlined in your digital marketing efforts, then our Madison digital marketing agency might have the digital marketing solutions for you!
Commonly Asked Questions:
What is a Digital Marketing funnel anyway?
You are a human (or group of humans) offering a product or service to another human, or group of humans. A funnel simply means it's an online process that allows consumers to engage with your brand, and then support them through the process to lead them toward becoming a customer.
Sometimes customers learn about a business and immediately buy from it. But usually, especially in today's world with millions of businesses competing for consumers' attention, it's necessary to build a relationship. Just like you normally wouldn't marry someone on the first date, your customers aren't likely to buy from you on the first impression. However, you also don't want to lose that prospective client opportunity by not having a mechanism in place to continue engaging with them. A marketing funnel allows you to connect and nurture a relationship with a prospective client.
A digital marketing funnel allows your prospective customers to learn your company values, how your product or service can help them, and why they would choose to do business with you. Prospective customers progress through the funnel at a pace that correlates with their usual decision-making timeline and your sales cycle, so that prospective customers can act quickly or move more slowly while building relationships and trust, which are critical in longer sales cycles.
Funnels: The Way Forward!
At our Madison digital marketing agency, we work closely with you to ensure that all aspects of the digital funnel are addressed. Your business might want to hire only for paid search or SEO, which is something we can explore, however, we have found that most companies benefit from working with a comprehensive digital marketing team who understands your business goals, can see the big picture vision, and understands how to develop a comprehensive funnel, while zooming back down to an execution level. This way, you aren't wasting your money just on paid search ads or SEO but without a way to capture those leads and nurture them through the process.
This is how working with our team is different: we don't do marketing for the sake of marketing. We partner with you to ensure that your marketing efforts are strategic and fulfill the brand mission while also driving the bottom line. This is one more way that we live our promise to our clients: to help you drive profits rooted from purpose. Every part of your marketing serves a bigger purpose so that your investment is strategic and you are supported in achieving your mission.
Digital Marketing Components Explained
What our Madison digital marketing agency can do for you
SEARCH ENGINE OPTIMIZATION
Search Engine Optimization is a key component in building a business online, as SEO focuses on increasing the quality and quantity of traffic to your website through organic (non-paid) search results. SEO includes both technical and creative elements to help improve rankings, drive traffic, and increase awareness in search engines, including:
9

Website Content

9

In-bound Links

9

Unique Page Visits

9

Accurate Keyword Research

9

Website Coding

9

...and much more!
Social media marketing strategies are designed to build customer engagement, customer loyalty, and trust within a relevant target audience. This type of marketing can help with a variety of goals, including:
9

Creating, establishing, and building brand identity and awareness

9

Increasing website traffic and conversions

9

Building relationships and trust with key audiences

9

Direct sales

9

Increase video viewership and visual engagement

9

Educate key audiences about your product or service
Social Media Paid Promotion
This type of advertising showcases your product or service directly to your target audience. These ads have in-depth targeting capabilities and have the ability to track when customers complete valuable actions on your website. Typically, a client will use these ads to increase awareness of their product or service and/or drive prospective customers to complete a valuable and trackable action on their website, such as make a purchase or register for an event.
These ads are served to a larger audience of people who are actively searching for a business or service like yours by typing in key phrases and keywords into search engines. Search ads are shown based on specific keywords that are associated with your ads, which have the ability to track valuable actions on your website. Typically, a client will use these ads to reach prospective customers more directly with the objective to sell, increase leads, or complete some other valuable action on their website.
Display ads are shown to a large audience across millions of websites on the Google Display Network. These ads work particularly well for retargeting people who already know or have shown interest in your business. Along with retargeting, display ads can be placed on specific websites, as well as targeted to people based on interests, and past behavior. Since people are not actively searching for your product or service, display ads are a great choice for brand awareness, reach, and retargeting.
Looking for guidance to live your soul truth?
Sign up for our Soulful Living bi-weekly newsletter.